Green yamato yacht harbor
The child keeper of the daughter kindergarten
A

The activity of the club is lively , publishes such a bulletin every month.
It will have been the bulletin of the eminent sailboat club in the country.
As for the club race in every month, too, the participation boat was often to do the sailboat life being that was enriched.
Since then, 20, it changed.
Even though, there are many belles in Tokuyama.


SKK cups, 12 boat perticipated from Tokuyama temporarily.
It was when done on the Yoshimi island, .


changd to Ocean 22ft designed by Van de shutatt 1980, busy with the sailing preparation and the innocent daughter


I enjoied a club race in the meanwhile of the child keeper. i had sailed only around Suoh-nada open sea..I couln't go far away. I'm a evrytime Harbor dad not my home dad'.
As for the male parents, to play strenuously is best education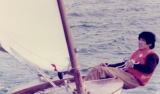 Tarantella-3 was very nice boat, We went Hiroshima, Matsuyama and Beppu .Small but pleasant Tara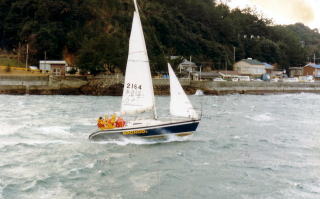 I changed from Ocean 22 to Holland 1/4 on 1984.
In that the turd of the New Year is cold, it is from Hiroshima to Tokuyama.
In front of Kaminoseki, it saw a tornado on the sea, being the first time.
After all, it isn't possible to advance forward.
It takes refuge to Kaminoseki.
I changed


We returned to Yamaguchi prefecture, to bring up our baby with a dinghy. I had no time for sailing In the new job. Sometimes I went for sailing to
release a stress. I couldn't imagethe life which doesn't have a sailing,.





'h spent free life after graduate sailing clud, and We live in hayama where my memorial when we married.. unfortunatly, there were no job for me. the finally searching work is an advertising agency at Shimbashi . It takes 2 hours and 30 minuts by the bus and train every day, I had gottenstomach ulcer in 1 year after get job. I'mnot suitable for the urban life. But I got a first boat "OK dingy" on 1972. Yahoo.

I began sailing in the club of university 1965. The picture is dear A class dinghy. in the dirty sea in Honmoku, We moved a place for sailing Tomioka, Hayama etc.
I had no time to study cause of the lodgeing together practice there 120days a year.enable me to cook and massage, it had never done, .
Still continuing sailing,drinking and smoking which lerned in the sailing club.

yƒz[ƒ€ƒy[ƒWμ¬uΐz

| –{E–Ÿ‰ζEDVDEƒAƒjƒE‰Ζ"dEƒQ[ƒ€ | WebƒRƒ"ƒTƒ‹ƒeƒBƒ"ƒOƒT[ƒrƒX

‹ΖŠENO'P'Μƒ‰ƒCƒuƒ`ƒƒƒbƒg | Ž©'ξ'Ε'ΕŠw'Χ'ιI'b'`'cŽ'Ši‡Šiuΐ
| 20GB –³—Ώ'ΜƒIƒ"ƒ‰ƒCƒ"ƒXƒgƒŒ[ƒW
š–ς''ΜŽ'Ši'ͺŽζ'κ'ιI Λ y–ς'ƒK[ƒfƒ"uΐz

| ΕVƒjƒ…[ƒX | WebŒŸυ | ƒhƒƒCƒ" | –³—ΏHPƒXƒy[ƒX